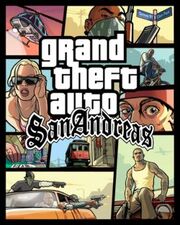 Grand Theft Auto: San Andreas is a Rockstar North developed GTA III era game, and so has references to storylines and characters from both GTA III and GTA: Vice City. It is the only game so far set in the fictional state of San Andreas, consisting of three cities: Los Santos, San Fierro and Las Venturas, and includes vast expanses of countryside, forests, and a desert as well as a mountain. The game is set in 1992, and centers around the return of Carl Johnson (also known as CJ) to his gang (the Grove Street Families), and their subsequent return to power.
The game has received widespread acclaim for its technical achievements and free gameplay. However, it also received widespread criticism - initially due to its "gangster" elements, which include drugs, prostitution, and murder; but later due to the discovery of disabled interactive sex scenes, nicknamed Hot Coffee, which could be re-enabled using third-party mods. This led to the re-rating by the ESRB of the game from Mature to Adults-Only until a second version, with the sex scenes fully removed, was released.
Ad blocker interference detected!
Wikia is a free-to-use site that makes money from advertising. We have a modified experience for viewers using ad blockers

Wikia is not accessible if you've made further modifications. Remove the custom ad blocker rule(s) and the page will load as expected.