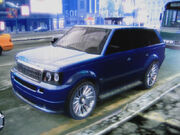 The Huntley Sport is an SUV featured in GTA IV, an adaption of the Huntley that resembles the 2006-present Range Rover Sport, although it is slightly boxier.
The Huntley Sport has better than average acceleration and top speed due to its 4.8 liter turbocharged V8.It also has better handling when compared to other SUVs in GTA IV, but it is much weaker when it comes to taking damage and going off-road.It can hit it's top speed reasonably well. A special edition of the Huntley Sport is unlocked after completing all of Little Jacob's drug deals, it's a Huntley Sport with a yellow and green paint job called the Rasta Huntley After doing a boating trip with Brucie, the one with a olive and yellow paint job can be taken at the docks where you first get on the boat. It's also one of the cars Stevie requests through his text messages, however it's parked outside the police station at Bohan. Rarely another Huntley Sport with a black paint job and a red stripe through can be spotted around Dukes and Broker.
Ad blocker interference detected!
Wikia is a free-to-use site that makes money from advertising. We have a modified experience for viewers using ad blockers

Wikia is not accessible if you've made further modifications. Remove the custom ad blocker rule(s) and the page will load as expected.