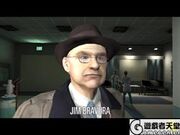 Jim Bravura is a Deputy Police chief working for the New york Police Department. Him and his men which are also Max Payne's former Co-Workers are out to find Max payne to try and arrest his for crimes they believe he has commited. Like many other typical Police Chiefs Jim Bravura is a very demanding and stressed man.
Ad blocker interference detected!
Wikia is a free-to-use site that makes money from advertising. We have a modified experience for viewers using ad blockers

Wikia is not accessible if you've made further modifications. Remove the custom ad blocker rule(s) and the page will load as expected.