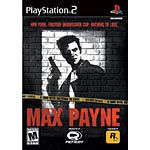 Max Payne is a BAFTA award winning third-person shooter video game developed by the Finnish company Remedy Entertainment, produced by 3D Realms and published by Gathering of Developers in July, 2001 for Windows. Ports later in the year for the Xbox and PlayStation 2 were published by Rockstar Games. A Macintosh port was published in July 2002 by MacSoft in North America and Feral Interactive in the rest of the World. There were plans for a Dreamcast version of Max Payne, but they were canceled due to the discontinuation of the console.
A sequel called Max Payne 2: The Fall of Max Payne was released in 2003. As of March 12, 2008, the Max Payne franchise has sold over 7 million copies according to Take-Two Interactive.
Ad blocker interference detected!
Wikia is a free-to-use site that makes money from advertising. We have a modified experience for viewers using ad blockers

Wikia is not accessible if you've made further modifications. Remove the custom ad blocker rule(s) and the page will load as expected.