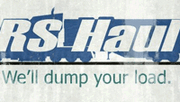 RS Haul is a trucker business that appears in many of the Grand Theft Auto games. It's motto is "We'll dump your load.". It has many locations ranging from Flint Country, San Andreas to Algonquin, Liberty City. It's name is very similar to "arse hole" which like many other GTA businesses, is a joke name.
Ad blocker interference detected!
Wikia is a free-to-use site that makes money from advertising. We have a modified experience for viewers using ad blockers

Wikia is not accessible if you've made further modifications. Remove the custom ad blocker rule(s) and the page will load as expected.