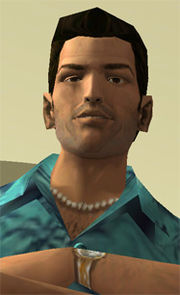 Tommy Vercetti is the Main Character in Grand theft Auto: Vice City. Tommy Vercetti is arguaably the best ever grand theft Auto Character. His trend is a Hawaiti style T-Shirt that was from the 80's. He befriended many friends in his years of climbing the criminal ladder and earning an underworld reputation. His best friend, Lance Vance, betrays him in the ast part of grand Theft Auto: Vice City. In 2009 Tommy Verceti would be in his 50's or 60's.
Ad blocker interference detected!
Wikia is a free-to-use site that makes money from advertising. We have a modified experience for viewers using ad blockers

Wikia is not accessible if you've made further modifications. Remove the custom ad blocker rule(s) and the page will load as expected.