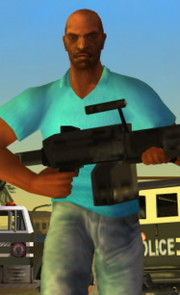 Victor vance is the protagonist for grand theft Auto: Vice citty Stories. He made his first appearance in the Grand theft Auto: Vice City Opening Cutscene. In the cutscene he gets shot by Ricardo Diaz's gunmen. Lance Vance, his brother, avenges his death by killing Ricardo Diaz. His main role in Grand theft Auto: Vice City Stories is set 3 years before his death. He is a Soldior that loses his job because he started smuggling drugs for his sergeant.
Ad blocker interference detected!
Wikia is a free-to-use site that makes money from advertising. We have a modified experience for viewers using ad blockers

Wikia is not accessible if you've made further modifications. Remove the custom ad blocker rule(s) and the page will load as expected.